This site is updated often...so always hit refresh for the latest information


Monday, November 5th, 2007
Funeral Services
It has been over three years since Yolanda Bindics disappeared. Her family is now finally able to give her a proper burial.

The young mother of four was last seen August 10, 2004 when she left work at the Family Dollar in Jamestown. Hunters found her body in September, 2006 in a remote, wooded area in Chautauqua County.

Police still have not identified her killer.

Yolanda will be laid to rest on Saturday. Friends and family will get a chance to say goodbye on Thursday and Friday.

Wake Service: Thursday, November 8, 2007
Huber Funeral Home
111 S. Main Street, Jamestown
From 2pm-4pm and 6pm-8pm

Wake Service: Friday, November 9, 2007
Reddington Funeral Home
657 Abbott Road, Buffalo
2pm-4pm and 6pm-8pm

Funeral: Saturday, November 10, 2007
St. Thomas Aquinas Church, Buffalo 10am

Thursday, August 23rd, 2007
A Mother's View
The night of Aug. 10, 2004, the evening sky seemed to shine like a gigantic sapphire dome, covering our area as far as our eyes could see. That was the night our precious daughter disappeared; she was later found murdered. Many people in this part of our state remember Yolanda as the uppeat multitasking young mom (as many young moms are today) spending her time between her job at the Family Dollar store, dropping her oldest daughter off at school, shopping and producing meals for her lively bunch. Sometimes she took time to enjoy a breakfast with her Dad and me on a day off and with her friends and acquaintances, but she was always careful that the children were in safe care with me, another reliable family member or the friend who lived downstairs. She always came home on time as planned or called if she would be a little late. Sadly, that's all over now.
The other night we had another clear blue sky, but we will never see Yolanda again! A perpetrator of evil is still running the streets of Western New York. We're still on his trail and we still care! I can still visualize in my mind the evening she disappeared. I remember the hopes, dreams and feelings of my 25-year-old daughter that year. I remember the big bear hug we shared about a month before she disappeared and her promise of "I'll be OK! I'm going to live a long, long time!" I was apprehensive that day about her because a co-worker mentioned to me something might happen to her but was unable to mention a name.
Yolanda's babies are getting bigger and growing up more and more each year. The eldest, Katelyn, is 11. Yolanda would have liked to have seen her now, all preteen and bubbly with life. She would have liked to have been there for her children's teenage years. She had pet names for each and every one of them and a heart as big as a house, yet she was strict enough and vivacious enough to have been able to see them through their teenage years safely. Emily, the little one, who was not yet walking when her mother disappeared, is now in prekindergarten, but the paper flowers she makes for Mother's Day will never be seen by Yolanda. Yolanda loved her babies dearly and brought Emily through the perils of her premature birth. Yolanda nursed her to health and wholesome healthy childhood through constant attention, medicines carefully administered at special times and mature, motherly child care. Little Allie, who was 2 that sorrowful summer of 2004, also is in school this September. She has bright, beautiful cornflower blue eyes and has a very special closeness with Grandpa Bindics. She is happy with all we do for her and expresses that to us. Courtney, who started kindergarten in September 2004, will be attending third grade this September. Due to my grandparent's visitation rights, Yolanda's children are able to get together regularly and spend a week in North Carolina in the summer.
I wish Yolanda was here today to see the strides her children have taken. I wish Yolanda was still enjoying the warm summer breezes, the beautiful sights and memories, the hopes of wonderful years she had ahead of her. About what happened to her and the person responsible? I believe someone needs to be held accountable for the death of our daughter and my grandchildren's mother. BuffaloNews Opinion Patricia Bindics
Tuesday, August 14th, 2007
Watson's Case in Appeals
Three weeks after state Supreme Court Justice Timothy Walker dismissed the lawsuit filed against the city of Jamestown by former police officer Michael Watson, his only hope rests with the Fourth Appellate Division in Rochester, which will hear his appeal at some point in the months to come. Likewise, the only hope for Buffalo attorney Edward Cosgrove, the special prosecutor assigned to pursue the misdemeanor charges filed against Watson, is that the same appellate judges will grant his own appeal of a decision made by Chautauqua County Judge John Ward.

Watson's attorney, Paul Webb Jr., believes he has a good shot of winning the appeal since he says the judge chose to believe only one side of the argument rather than leaving that up to a jury. ''A jury should decide questions of fact — not the court,'' Webb said. ''That's his obligation — finding issues of fact, not to decide them.'' The question Walker faced was whether police officials acted maliciously or recklessly when they pursued criminal and civil service charges against Watson.

One of Webb's central arguments was that police officials acted either maliciously or recklessly when they charged Watson with seven counts of stalking, four counts of aggravated harassment and one count of official misconduct in the wake of Jamestown resident Yolanda Bindics' disappearance more than three years ago. According to court documents, four days after she was last seen on Aug. 10, 2004, one of her family members told FBI investigators that she and Watson were once involved in a personal relationship. Ms. Fiore-Nieves, city attorney, said during the recent motion proceedings that Watson never told his supervisors of the relationship ''even though he was aware that there was a missing-persons investigation ongoing within the department for these four days,'' though Webb said Watson had no reason to tell his supervisors since it would have contributed nothing to the investigation. Regardless, that information prompted the FBI to investigate Watson's relationship with Ms. Bindics, and it also prompted the Jamestown Police Department to conduct an internal investigation of its own. As part of the internal investigation, statements were taken from three woman, two of them employees of the police department, which resulted in allegations that Watson had once stalked and harassed them.

Webb questioned the internal investigation since it was conducted by Lt. Todd Isaacson, who he said did not get along with Watson. In affidavits, both police Detective John Ferrara and Joe Genco, a retired police sergeant, said it was ''common knowledge'' the two didn't get along, though Ms. Fiore-Nieves said during the motion proceedings that it didn't matter. ''There's been no indication to indicate that there's been any willful misconduct (or) reckless behavior on the part of these individuals,'' she said. ''The best the plaintiff could come up with was that there was some dislike between Lt. Isaacson and the plaintiff.''

Webb also questioned the charges that were brought against Watson since they alleged that he stalked and harassed the three victims, though the three victims reportedly did not want charges brought against him. In affidavits, one victim said, ''If I would have had a problem which required police intervention with Michael Watson, I would have requested help.'' Another said that Watson had ''never threatened or harmed'' her. The judge, however, looked to the three victims' original statements on which the charges were based. ''There's three statements here under oath where they said they were intimidated,'' Walker said to Webb during the proceedings. ''One was so intimidated she had her mother take her kids to school to avoid a confrontation with the guy.''

Also central to Webb's case is the press conference that was called Oct. 4, 2004, during which William MacLaughlin, former police chief and a defendant in the civil suit, announced that Watson had been suspended and charged with the 12 criminal counts alongside numerous civil-service violations. At that press conference, Watson was reportedly identified as a ''person of interest'' in the investigation into Ms. Bindics' disappearance, and Webb maintains MacLaughlin did so to destroy Watson's reputation. ''When you say something like that and you're the chief of police ... you know out there the public is going to think he is a sex predator and involved in the murder,'' Webb said. The belief that the police department's actions may have been reckless or malicious and may have contributed to the widespread belief that Watson was involved with Ms. Bindics' death was something to which Ferrara attested in his affidavit. Ms. Fiore-Nieves argued the term ''person of interest'' was first used by the FBI because of Watson's relationship with Ms. Bindics after interviews and a polygraph examination produced reportedly mixed results on the veracity of Watson's early claim that he had nothing to do with Ms. Bindics' disappearance. ''As a result of that, the FBI notified the Jamestown Police Department that they considered Mr. Watson a person of interest in the Yolanda Bindics missing persons investigation,'' Ms. Fiore-Nieves said. Patrick L. Fanelli Jamestown Post Journal
Saturday, August 11th, 2007
Bindics Family Still Seeking Closure
Though three years have passed since Jamestown resident Yolanda Bindics was last seen alive, police say it isn't time to give up hope that her murderer will one day be brought to justice. They believe they know who did it, according to Lt. Todd Isaacson, who heads the Jamestown Police Department detective bureau and has been on the case since Ms. Bindics was first reported missing in 2004. He says they believe they know who murdered Ms. Bindics and then hid her body in a remote stretch of woods a few miles northeast of Sinclairville.

Isaacson believes the killer is out there, in the area, almost within reach, and police only need that one piece of evidence, that silver bullet, to make the arrest. ''We certainly narrowed the focus of our investigation to a particular area and a particular individual,'' Isaacson said. ''The discovery of the body and the location of the body certainly played into our theory of who is responsible. It is a very isolated area we believe is very familiar to the individual we believe is responsible for her death.''

As early as June 2006, Jamestown police said they had a pretty good idea what happened Aug. 10, 2004, the night Ms. Bindics left the Family Dollar store on Fluvanna Avenue at 8:30 p.m. after telling her brother over the phone that she was off to buy groceries. Police reiterated their beliefs after Ms. Bindics' remains were discovered by hunters on Sept. 10 just west of the Earl O. Cardot Eastside Overland Trail, which winds through private property and state forests in eastern Chautauqua County.

But the assurances are not much comfort to Ms. Bindics' friends and family, who had to wait more than two years before knowing what became of her and another year without knowing who is responsible for her death. ''I don't know. I'm not really sure why they haven't arrested anyone,'' said Buffalo resident Anne Chmielewski, Yolanda's sister. ''It sounds to me, based on everything they've said and done and found, that they should have plenty to make an arrest. ... It gets so frustrating. They're supposed to know. Then what's the problem? Where does the issue lie?''

Both Isaacson and Mrs. Chmielewski spoke to The Post-Journal on Friday, the three-year anniversary of the day Ms. Bindics was last seen alive. For Mrs. Chmielewski, the biggest regret seems to be the fact that the remains will probably not be released to the family until an arrest has been made.

Isaacson says he appreciates and sympathizes with Ms. Bindics' friends and family, who may have found some closure when they finally learned what happened to her but do not have a grave beside which to grieve. ''There's closure, but there's also that healing and grieving part of recovery, which is literally being able to go to the cemetery and have your moment,'' Isaacson said. ''We have to be patient. We're not going to change what happened. I'd like an answer sooner rather than later like the family. ... I await the day to lock this individual up for causing her death.''

When the time comes, the family plans to have the funeral at Reddington Funeral Home in Buffalo and to bury Ms. Bindics at Holy Cross Cemetery in Lackawanna, since Ms. Bindics grew up there and other family members are buried at the cemetery.

There is still a $20,000 reward for information that will lead police to Ms. Bindics' murderer. Patrick L. Fanelli Jamestown Post Journal
Friday, August 10th, 2007
Today marks a difficult anniversary.
Three years ago
Yolanda did not come home
Three years...
I can't believe it's been that long
It seems like only yesterday...
Sometimes...I fight reality
Maybe it's just a nightmare
That many of us share, And when we wake,
She'll be right there smiling
But the truth I can't take
Forever shattered
No more dreams
Only nightmares
Forever lost
A silent tear is shed.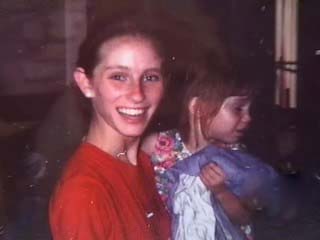 Friday, August 10th, 2007
Yolanda Bindics Murder - 3 Years, No Arrests
On August 10, 2004, 25-year-old Yolanda Bindics, a mother of four, left her job at the Family Dollar store in Jamestown. She called her brother, who was watching her kids, around 8:20pm from her cell phone. When he tried to call her around 8:35pm, there was no answer. That was the last day Yolanda was seen by family and friends.

Her car was found the next day down the street at the Arby's. In September 2004, her purse, keys, and other items washed up in a storm drain in Jamestown. More than two years later, in September 2006, hunters found the woman's remains in a remote, wooded area in the Town of Charlotte, Chautauqua County.

Investigators have confirmed the remains are Yolanda's, and that she was murdered, but they remain tight-lipped on exactly how she died. "We are feeling very fortunate that we did find the remains, regardless of where they were," said First Assistant District Attorney Tracey Brunecz, "and we are doing what we can with the information we have to further determine who did this to Ms. Bindics." Asked if she still has hope, Patricia Bindics, Yolanda's mother, said, "That they find someone, yes. I have some hope. They have hope. At least, that's what they tell us."

During the case, investigators have focused on three men, Darien Thomas and Clarence "Carl" Carte, both of whom had children with Yolanda. Authorities also questioned former police officer Michael Watson, who reportedly had a relationship with Yolanda. Days after her disappearance, he was placed on paid leave and arrested on unrelated stalking charges. According to police, Carte had been seen at the Kwik Fill across the street from the Family Dollar store the night Yolanda disappeared, but her family ackowledges that Yolanda went on vacation in Canada with Thomas about one week before her disappearance. Brunecz declined to comment on whether all three, or any of the men, remain persons of interest in the case.

Yolanda's remains were taken to Mercyhurst College in Erie, Pennsylvania for examination. Patricia Bindics has agreed to allow her daughter's remains to stay in the lab for any further analysis. This means the family's plans for her funeral, and eventual burial in Holy Cross Cemetery in Lackawanna, must remain on hold. 2 On Your Side-WGRZ Robyn Young
Friday, August 10th, 2007
Bindics Family Marks Sad Anniversary
It's a somber anniversary for the family of a murdered Jamestown mother of four. Yolanda Bindics dissapeared three years ago Friday. Her remains were found in a wooded area in the Town of Charlotte last September. Her murder remains a mystery. Police are offering a 20,000 dollar reward for information leading to the arrest and conviction of her killer. WIVB-TV 4
Friday, August 3rd, 2007
Yolanda Bindics' Family Still Hoping for Answers
The family of a Jamestown woman is renewing its plea for help in solving her murder. Yolanda Bindics' body was found last September after she'd been missing for a couple of years. Her sister hopes it won't be much longer until a suspect is behind bars.

Nearly three years have gone by since Yolanda Bindics disappeared in Jamestown...and it's almost been a year since hunters discovered her body in the Town of Charlotte. Her sister is frustrated the killer is still on the loose, but she remains hopeful. "Everything's not processed yet, everything's not done and it's taken a long time," said Ann Chmielewski. Bindics' body was taken to Mercyhurst College in Erie, Pennsylvania to be examined by forensic pathologists. It's unclear what, if any, DNA evidence has been recovered. Chmielewski wonders why DNA tests were so quick to come back in other high-profile cases...like Altemio Sanchez. "In fact, it kind of surprised me when I was watching the news and they said 'Well, we expect that evidence to come back within the next week or two' and I was kind of floored by that."

"We've narrowed our scope in particular areas and a particular person," said Jamestown Police Det. Lt. Todd Isaacson last September, shortly after Bindics' body was found. At least two persons of interest had been named -- former Jamestown Police officer Michael Watson, who allegedly had a relationship with Bindics and Clarence Carte, the father of her youngest child. So far, no charges have been filed..After all of this time, Yolanda Bindics' family still has not been able to hold a funeral for her. They want to bury her body and go to a cemetery to pay their respects. "Mother's Day has passed again. Her children couldn't go see her. We can't really start to heal until we have a funeral and the person's arrested," said Chmielewski. She still hopes someone will come forward with the information police need solve her sister's murder. "We're pretty confident somebody knows something. Not just the killer."

Michael Watson sued the Jamestown Police Department for defamation. The suit was dismissed earlier this week but his attorney said they plan to appeal. WKBW-TV 7 Melanie Pritchard
Monday, July 30th, 2007
Judge Dismisses Watson Case
The lawsuit filed by former Jamestown police officer Michael Watson against the police department and the city was dismissed, though defense attorney Paul Webb Jr. is intent on appealing the judge's ruling.

''We are very happy,'' Ms. Fiore-Nieves said. ''(Watson) didn't really articulate in his papers a specified amount of money, but it's certainly a relief to the city. It validates the action taken by the police throughout the length of this investigation.'' It has been close to three years since Watson was first identified as a ''person of interest'' in the investigation into Ms. Bindics' disappearance, and nearly a year to the day since Ms. Fiore-Nieves first filed a motion for summary judgement with the state Supreme Court.

According to Ms. Fiore-Nieves, police officers are granted immunity from civil suits unless they act in a reckless and malicious manner, and she argued Watson's lawsuit must be dismissed since police acted appropriately based on the information they had at the time. Justice Timothy Walker granted the motion for summary judgement and dismissed the case after hearing arguments from both attorneys Monday in Mayville, though Webb tried to show that police officials sought to ruin Watson's reputation by labeling him as a ''person of interest'' in the case.

Six misdemeanor charges against Watson are still pending, the other six having been dismissed.
Wednesday, June 6th, 2007
Once again, Watson's day in court has been delayed
as prosecutors appeal a decision passed down from Chautauqua County Judge John Ward that stops them from introducing specific pieces of evidence, according to Paul Webb Jr., Watson's attorney. ''What he is trying to do is prohibit Judge Ward from enforcing the order of March that precluded the people from introducing evidence that had not been disclosed to the defense,'' said Webb, an attorney with the Lakewood law firm Erickson, Webb, Scolton and Hajdu.

The evidence Ward dismissed consists of e-mails and phone conversations relating to the charges that Watson stalked and harassed three female employees of the Jamestown Police Department during his own tenure as an officer, according to Webb. He also said the evidence had not been disclosed to the defense, the reason for the dismissal. The charges against Watson originated during an investigation immediately following the disappearance of Jamestown woman Yolanda Bindics. Watson was placed on administrative leave after it was revealed that he had been involved with Ms. Bindics romantically. After a subsequent investigation, Watson was accused of stalking and harassing the three female employees. The case went to a grand jury in December 2004, and he was indicted on three counts of fourth-degree stalking, four counts of third-degree stalking, four counts of second-degree aggravated harassment and one count of official misconduct. In July, Ward dismissed all but one of the stalking counts and the official misconduct charge on the grounds that the evidence prosecutors provided to the grand jury was ''not legally sufficient.'' Only the official misconduct charge was reinstated upon appeal, which Webb described at the time as a victory for his client.

Watson resigned from the Jamestown Police Department in May 2006, just days before a civil service hearing regarding alleged violations of department policy that stemmed from the stalking and harassment accusations. Watson is suing the Jamestown Police Department and the city of Jamestown, alleging that investigators maliciously painted him as a suspect following Ms. Bindics' disappearance.Police, on the other hand, blame the media and the public for reaching such conclusions about Watson, saying they only labeled him as a person of interest, the classification of which included everyone who knew Ms. Bindics and could shed some light on her disappearance. Ms. Bindics disappeared in August 2004, and her remains were discovered by hunters on state forest land in the town of Charlotte last September. The cause of death was eventually ruled as foul play, and a suspect has not yet been identified.
Patrick L. Fanelli Jamestown Post Journal